*********************************************************
The AIPS image sensor watching at its inventor, Yoshiaki Hagiwara.
*********************************************************

hagiwara-yoshiaki@aiplab.com ( http://www.aiplab.com/ )

hagiwara@ssis.or.jp ( http://www.ssis.or.jp/en/index.html )

*********************************************************
           return to the TOP Page
*********************************************************


Hagiwara Important Publication & Patent Works

(1) 1976 Paper (2) 1978 paper (3)1979 paper (4) 1989 paper

(5) 2001 paper (6) 2008 paper (7) 2013 paper (8) 2019 paper

(9) 1975-127646 patent (10) 1975-127647 patent (11) 1975-134985 patent


Hagiwara_Awards_and_Publication_List




Today's E-Tegami





Top Homepage of Ogino Junior High School in Atsugi-city

Monthly E-Tegami Posters:

19.01 19.02 19.03 19.04 19.05 19.06 19.7 19.08 19.09 19.10 19.10x 19.11

18.12 18.11 18.10 18.08 18.06 18.05 18.03 18.01 





http://www.aiplab.com/Study_Korean.html



"the World of Artificial Intelligent Digital Circuits"




Yoshiaki Hagiwara wrote a book on "the World of Artificial Intelligent Digital Circuits",

which is important and needed to built the intelligent image sensor systems.

Please visit https://www.seizasha.co.jp/ if you are interestied in the book.

ISBM978-4-88359-339-2 ( Hard Cover, 460 page, 9000 Japanese Yen + tax )

https://www.seizansha.co.jp/ISBN/ISBN978-4-88359-339-2.html


Mail Order FORM : https://www.seizansha.co.jp/mailorder_eng.html



Introduction to the World of Artificial Intellignet Digital Circuits
Introduction to Special Relativity Theory for Middle School Students
Introduction to Elementary School Puzzle of Oil Pot Problem
The official homepage of Society of Semiconductor Industry Specialists
Annual Semicondutor Tutorial Programs in Spring and Fall.




Introduction to the artificial intelligent electric eye, the smart image sensor

Lecture Memo on Semiconductor Quality Insurance

SSIS2019Fall.Hagiwara01.html


SONY HAD is by definition Pinned Photodiode with the vertical OFD (VOD) function.

Invention of Pinned Photodiode in 1975 by Hagiwara ( in Japanese Text )





The classical MOS image sensor had the N+P junction type photodoide
with the serious image lag problem.

Sony developed the CCD/MOS photo capacitor with no image lag problem.




But the CCD/MOS capacitor has the serious dark current problem.

SONY hole accumulation diode (HAD), which is identical to
the Pinned Photodiode with the vertical overflow drain (VOD)
function, was invented originally by Yoshiaki Hagiwara at Sony.

See the three Japanese patents, 1975-127646, 1975-127647
and 1975-134985 invented by Yoshiaki Hagiwara at Sony in 1975.

In 1978, Hagiwara at Sony developed the P+NPNsub junction type
Pinned Photodiode with the very good blue light sensitivity,
the very low surface dark current and no image lag problem.

The details were disclosed and explained first in the SSDM1978 paper
of the international conference of Solid State Devices and Materials
( http://www.ssdm.jp/ ) and now also in the IEEE 3DIC2019 paper
published at the IEEE international conference of the three Dimensional
Integrated Circuits held at Sendai in Japan. ( https://3dic-conf.org/ )


A Long, Long Story of Pinned Photodiode and Sony Hole Accumualtion Diode (HAD).html
Difference-between-buried-photodiode-and-pinned-photodiode
Hagiwara invented Pinned Photodiode in 1975 ( in Japanese ).html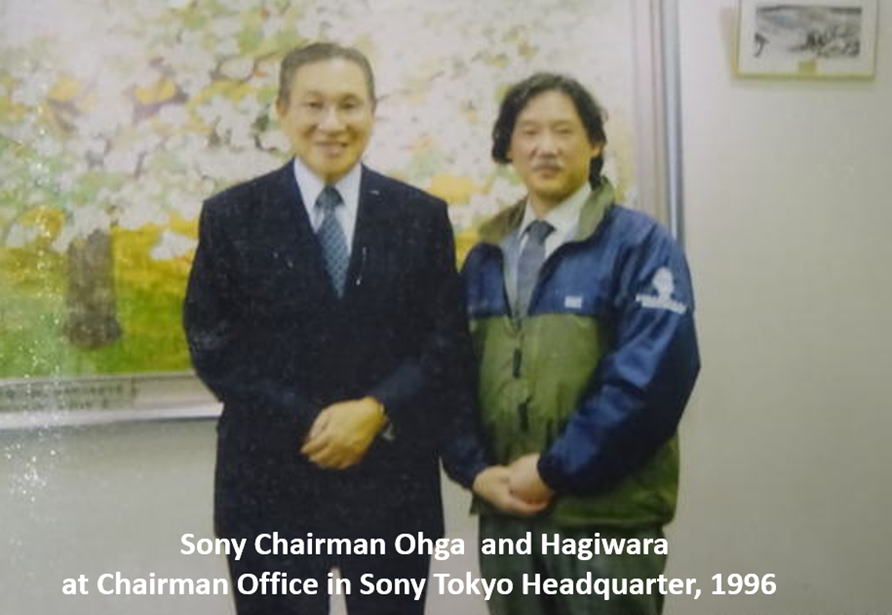 Hagiwara was on Japanese Television ( Fuji TV ) , March 2013 ,
explaining his vision on the future self-driving automatic car
controlled by with the artificial intelligent partner system (AIPS).



Hagiwara_Yoshiaki_CaltechDiploma_PhD1975.pdf



*********************************************************
The AIPS image sensor watching at its inventor, Yoshiaki Hagiwara.
*********************************************************

hagiwara-yoshiaki@aiplab.com ( http://www.aiplab.com/ )

hagiwara@ssis.or.jp ( http://www.ssis.or.jp/en/index.html )

*********************************************************
           return to the TOP Page
*********************************************************